Shower Wall Panels vs Ceramic Tiles: Which is Better?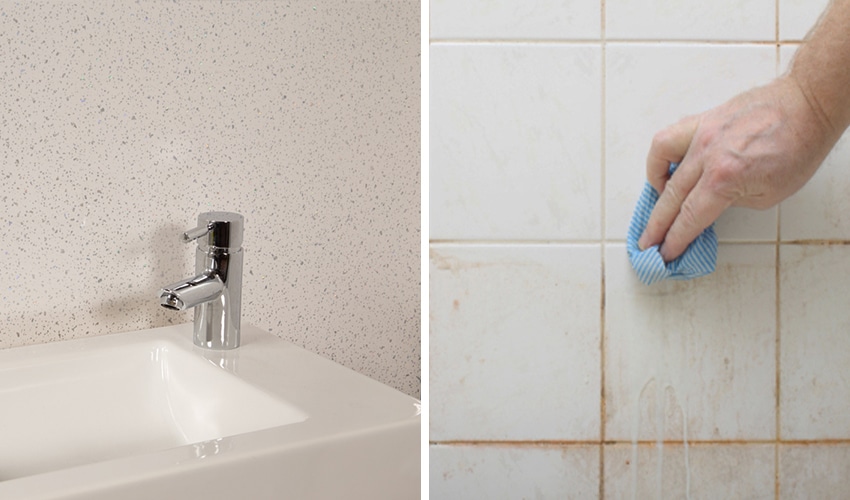 Getting the right wall covering in your bathroom is important both for its appearance as well as its function. And ceramic tiles have long been the go-to choice. But that doesn't necessarily mean they're the best. In the past decade, wall panels have emerged as an effective alternative to the conventional ceramic tiling in bathrooms.
So, which is better? Read on as we compare wall panels and ceramic tiles.
What's needed
What do you need from a bathroom wall covering? First and foremost, it needs to be waterproof. Bathroom walls around the bath or shower are within the splash zone. That means they're going to get wet time and again.
Materials like wood, wallpaper and standard paint are unsuitable as they'll get damaged by the moisture. The result? Your bathroom won't look the part and you will be continually paying for repairs.
Secondly, the wall covering needs to look great. It's not enough to simply keep water out. Homeowners want their bathroom to be modern and stylish. Add to that ease of installation and maintenance, and you have a good idea of what to consider before choosing between tiles and ceramic tiles.
How do tiles stack up?
Ceramic tiles are used mainly because of their water resistance. They allow water to run straight off them. This doesn't make them completely waterproof though. Over time, the grouting can break down and allow water through.
In terms of style, tiling has become quite dated too. It's not the modern, clean and stylish look most homeowners are searching for, leaving some tiled bathrooms sticking out in homes.
Arguably the main problem with tiling is installation. Removing existing tiles, cutting tiles and finally grouting makes for a lot of mess, stress and often substandard results. Following that, tiles require constant cleaning, with dirt easily gathering between tiles in the grouting.
And wall panels?
Like tiles, wall panels offer impressive water resistance. Unlike tiles, they don't have grouting, so they're 100% waterproof as well as being easier to clean and maintain. Wall panels can be installed over existing tiles and are easily cut to size to fit any bathroom perfectly.
Another benefit of wall panels is their appearance. They're modern and attractive, giving homeowners the stylish bathroom they have always wanted. And they come in a range of styles, so you can choose the best fit for your design scheme.
The choice is yours
In contrast to tiling, wall panels are a stylish, durable and low-maintenance option for bathrooms. At Igloo Surfaces, we stock a range of high quality bathroom and shower wall panels. With a 10-20-year guarantee, free delivery on orders over £100 and free samples available, we make it easier for you to make the right choice. Contact us today for more information or order your free samples today.