The Best Bathroom Ceiling Material Options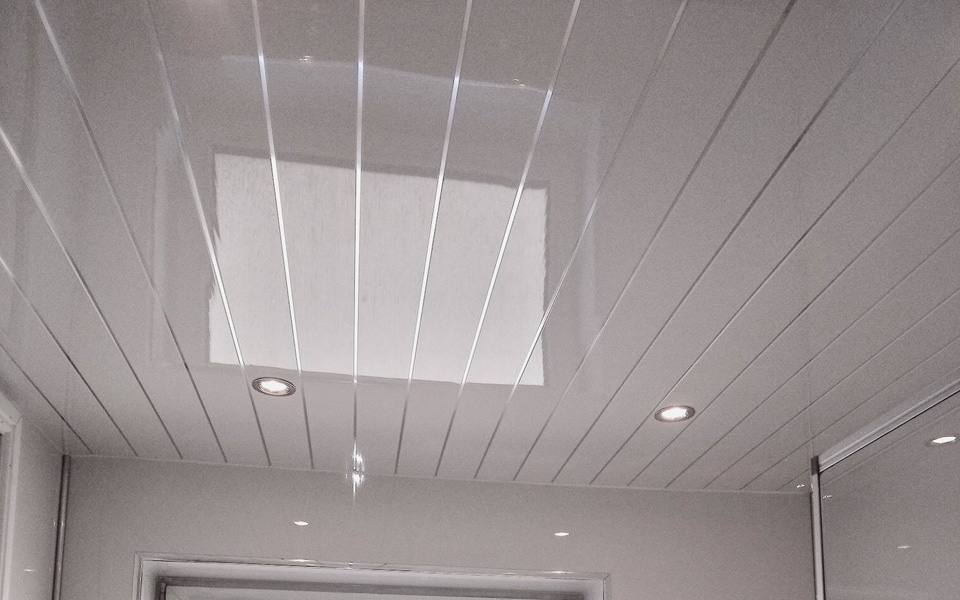 When fitting a new bathroom ceiling, it's important that you choose the right material. As bathrooms are naturally prone to moisture, you can't simply paint over porous plaster as you might in other rooms.
Not sure where to start? We've compiled a list of common bathroom ceiling materials to help you choose the best option for you.
Fibreglass
Fibreglass is an inexpensive and water resistant material, frequently used in American bathrooms. This material can create an appealing ceiling in your bathroom and won't sag over time due to its rigidity. It's also non-combustible and comes in pre-cut panels to fit your space.
Unfortunately, however, fibreglass contains a formaldehyde binder which poses a health risk during installation. Its microfibres can penetrate dust masks and collect in your home, leading to respiratory problems. Specialist cleaning equipment is therefore needed to remove them and as such, fibreglass is best left to the experts rather than DIYers.
Tiles
Tiles are popular in bathrooms thanks to the polished look they offer. They come in a variety of colours and materials, from ceramic to high end marble. Most commonly, bathroom tiles are positioned in areas most prone to water splashes thanks to their waterproof qualities.
However, when installing tiles you need to use a tile backer and completely seal any gaps between the tiles. If you don't, moisture could seep through and cause a build up of mildew. The other issue is that tiling is very time-consuming and can become expensive if you've got a large area to cover.
Cement board
Cement board is a strong and durable material, largely unaffected by moisture. Unlike other drywall materials, it does not swell or break down when wet. Because of this, it is often used as a protective backing material for tiling.
Despite this material's composition, the biggest disadvantage of cement board is its weight. Due to this, it can be difficult to install on a ceiling without the help of experienced professionals. It also has a rough texture, so a smooth finish wouldn't be instant.
Green board
Another alternative to standard drywall, is water-resistant green board. This material is coated in a thick paper protected by wax, to enable it to withstand steam in high humidity areas. However, it is not 100% waterproof so isn't suitable for very wet areas.
Unfortunately, green board is also not as strong as standard drywall, despite being more expensive. To prevent it from sagging, it must be fastened to the wall every 12 inches, rather than the standard 16.
PVC panels
PVC panels are a simple, no fuss solution for your bathroom ceiling. This waterproof cladding is resistant to both mould and mildew, lightweight for easy installation and requires very little maintenance.
They're also the most versatile option in terms of appearance. At Igloo, we stock a variety of modern, attractive designs to suit your décor. Our PVC panels are even more cost-effective than other ceiling materials and have been designed to stand the test of time.
Want quality ceiling panels?
At Igloo we supply top quality PVC ceiling panels at affordable prices. Whatever your style preference, we have a bathroom ceiling to suit you and all the materials you need to install it. Our PVC wall coverings even come with a 10 year guarantee!