Small Cloakroom Toilet Ideas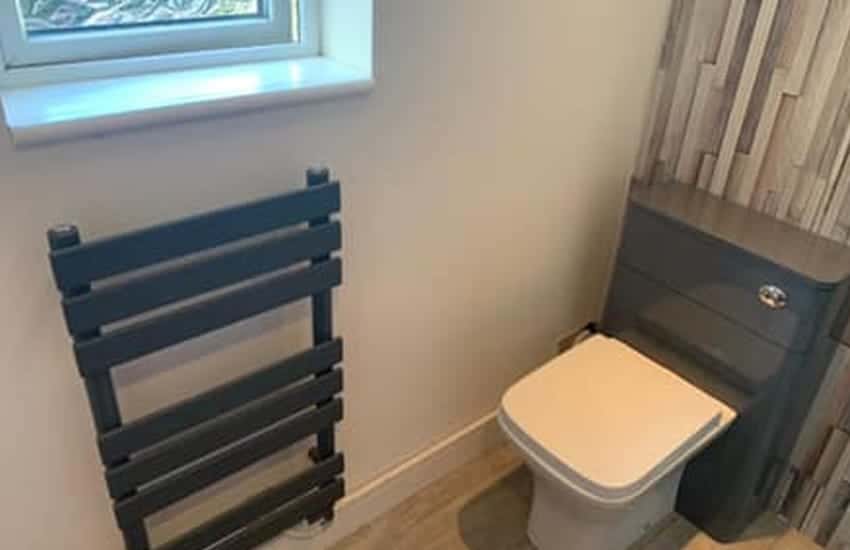 While the downstairs toilet may not be used very often, that doesn't mean you should neglect it. As a room mostly used by visitors, it can leave a lasting impression on your guests. It's also the perfect space for trying out a different style before using it in the rest your home – so why not make the most of it?
Read on as we look at a few small cloakroom toilet ideas to help maximise your space and add interest to the smallest room in your home.
Storage
With some downstairs toilets as small as 80cm x 140cm, clever storage solutions are vital. If floor space is at a premium, your best bet is either a small corner unit or to use your walls. A mirrored wall cabinet or some sleek shelving is a great way to add storage space while helping to keep the room airy. Alternatively, instead of blocking off the entire wall where the cistern and pipes are storied, create a clever boxed-in cupboard to store your bathroom essentials out of sight.
Wall décor
As we mentioned earlier, the smallest room in your home is the ideal place to experiment with new styles and colours. Add a splash of colour to the area behind your sink with an easy to install PVC wall panel. They're fully waterproof, wipe clean and have minimal grouting.
Or, if you want to make a statement, why not create a feature wall? From scenic landscapes to mock brick effect panels, stunning PVC panels can help you create a cloakroom that your guests will be in awe of.
Fixtures & fittings
While this may be obvious, a compact toilet and rectangular or corner sink will help you make the most of the space you have. You'll also need to carefully consider the fittings.
There's no point choosing an impressive waterfall tap, for instance, if it's likely to cause spillages when paired with a small basin. Instead, opt for unobtrusive fittings and save bolder designs for the main bathroom. Similarly, you might want to install a mounted heated towel rail instead of a standard radiator.
Lighting
Downstairs toilets often don't have a window and if they do, it's probably only small. That's why it's crucial to install good lighting to avoid the room looking dingy and uninviting. Spotlights embedded into your ceiling will brighten up the room and give a contemporary finish, without compromising on ceiling height.
Flooring
Vinyl flooring is a great option for areas prone to water splashes. It's also more hygienic than many of the alternatives, as there's zero wood content and no grouting which can harbour bacteria and become discoloured over time.
For a small room, try dark flooring with light coloured walls and ceilings to give the illusion of more space. Another option is to use the same colour on the walls and floor to create a seamless look and avoid visually cutting up the room.
Looking for advice?
Whether it's the floor, walls or ceiling, PVC panels can help you turn even the smallest cloakroom toilet into a stylish and functional room.
If you need some installation tips, our helpful video guides are a great place to start. Or if you've got a particular question which isn't covered in our FAQ section, our specialist team are on hand to help. Simply call on 01709 329117 or fill out our contact form and we'll get back to you.