Refurbishment at Harrogate Hospital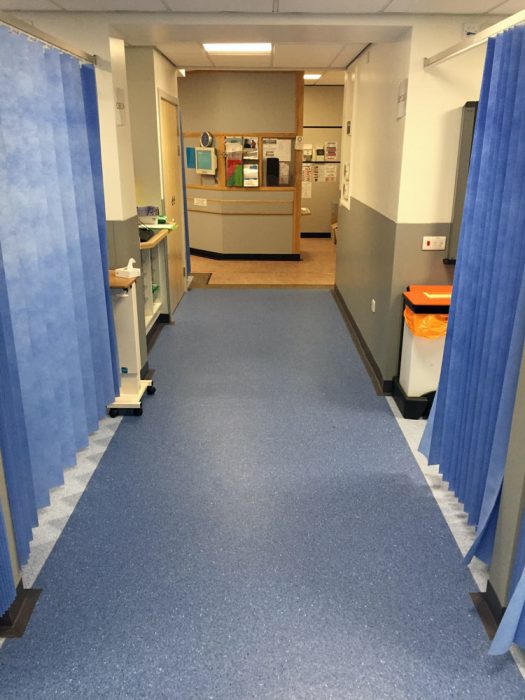 A refurbishment project went underway at Harrogate Hospital and the main contractor contacted our sales team to price for the project after hearing our wonderful reputation to install the PVC wall cladding.
From this enquiry Igloo won the contract to install all the PVC wall cladding at Harrogate Hospital to ensure the refurbishment of the hospital was on target and to standard.
Our installation team expertly installed over 500m2 of Altro Whiterock in various colours including white, Dusty Grey and Bergamot as well as stainless steel corners ensuring that at all times that the workmanship delivered was of a high standard and ensuring customer satisfaction.
Our team works very long days and weekends to ensure that this project was delivered within the timescales set by the main contractor on site.
The overall project completed delivered a hygienic finish as well as a welcoming and appealing feel for the patients and staff whom will use the facility fo many years to come.
We are proud that our team were able to assist and deliver what was required for the main contractor and since then we have worked on several other projects with this same contractor due to the high workmanship and expertise delivered on this site by our experienced installation team.
Our team all have the appropriate CSCS qualification and certification, Asbestos Awareness certification and each team have a trained First Aider with them at all times.
Not only do we ensure as a company our team are trained and competently qualified to high standards, but Igloo are a CHAS accredited, Constructionline and Safecontractor accredited company with the necessary insurance policies in place to ensure peace of mind for both parties.
If you would like to know more information on the products and services we provide, or you would like a quote please contact our sales team ([email protected]) or telephone 01709 329117.
Igloo Surfaces – the Hygienic Surface Specialist based in South Yorkshire and covering UK