How to Transform Your Bathroom on a Budget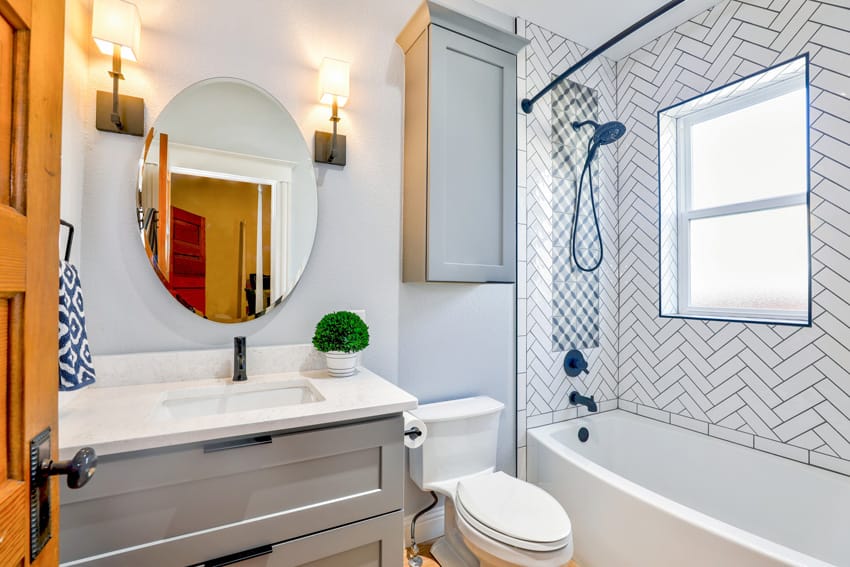 The bathroom is one of the most important rooms in your home – not mention one of the most valuable when it comes to selling. That's why so many people want to keep their bathroom looking fresh and modern.
But with all the porcelain, plumbing and pouring water, that can seem quite daunting. Fortunately, it's easier than you think. Read on for four simple ways to give your bathroom a new lease of life on a budget.
1. Refresh the walls
Traditional tiling is expensive and looks pretty dated. Bathroom wall panels are a modern, hard-wearing and long-lasting alternative that won't break the bank. They're 100% waterproof, suitable for showers and bath surrounds, and can even be fitted over existing tiles to save time.
Best of all, they give you a lot more freedom when it comes to the look of your bathroom. Choose from natural timber- and stone look panels, a range of colours and patterns, or just clean white.
2. Revamp the shower
Showers are the focal point of many modern bathrooms. With that in mind, you can give your whole bathroom a new look simply by redecorating the shower. Again, this is an area where PVC wall panels can help.
With an all-in-one kit, you get everything you need to transform the walls around your shower, making it look like an entirely new installation. Add a marble effect for something a bit different or go for cool, clean aqua panels for a timeless bathroom look.
3. Add more storage
Bathrooms aren't typically renowned for their storage. This can soon lead to your bathroom becoming cluttered with shower gels, towels and toilet rolls. In many cases, finding a home for these bathroom essentials can be enough to give it a new lease of life.
Thankfully, there are lots of budget-friendly options out there:
An open shelving unit on the wall
A mirrored cabinet to keep smaller items out of the way
A freestanding storage unit with wicker baskets to keep towels tidied away
4. Upgrade your floor
With all the drips, drops and wet feet, bathroom floors can become tired over time. Replacing your floor with a modern alternative is sometimes all it takes to transform the whole room. If you're looking for something that's affordable without compromising on quality and style, vinyl flooring is hard to beat.
Unlike tiles and wood floors, vinyl flooring comes in a variety of colours and patterns to suit your taste. Go as bold or as neutral as you'd like – either way you can expect a top-quality finish at an affordable price.
Transform your bathroom today
If you want to give your bathroom a new lease of life without breaking the bank, Igloo Surfaces can help. We provide state-of-the-art PVC wall panels, shower kits and flooring that combine longevity, style and performance at a great price.
To make sure you find the right products, we supply four samples for just £1. Better yet, our quality wall panels are guaranteed for at least 10 years, so you can rest assured that your money has been well spent.