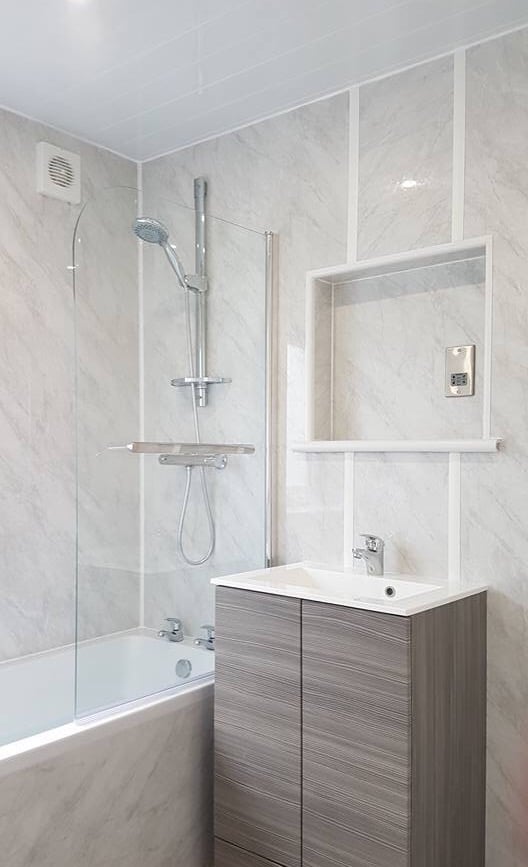 Lets talk Decorative Wall Panels……If you are redesigning your bathroom and want a completely new look you should consider decorative wall panels.
Our decorative wall panels are of exceedingly good quality, tough and 100% waterproof they add style to any bathroom or shower room.
Below are the many advantages of choosing decorative wall panels in your new project;
Cost Effective
A cheaper alternative to ceramic tiling and due to less installation time being involved you get double the saving when installing decorative wall panels in your home. Bonus!
Practically Maintenance Free
If you're anything like our team here we all agree that one of the most arduous cleaning jobs is cleaning grout. Mouldy grout harbours a vast amount of bacteria primely positioned where everyone gets washed. With our decorative wall panels this job is eliminated. They are smooth clean finish which only need to be cleaned with soapy water (no abrasive cleaners needed or advised!). Therefore it makes cleaning your bathroom a piece of cake!
Easy to Install
All our decorative wall panels are of a tongue and groove system. Therefore they simply interlock together making the installation process effortless. Not only that, but if a smaller width piece of wall panel needs to interlock with a large piece, not a problem…..we have all the trims you could require to make sure that the installation process runs smoothly.
Add Style
We've many styles in stock, from marble, slate, sparkle to gemstone – you name it we have it! Whatever your personal preference and whatever decor you are looking to achieve you can be sure that we will have a decorative wall panel to suit your taste.
FREE Deliver & FREE Samples
Because our team know that buying a product that is potentially an investment piece is so important we not only offer FREE delivery within mainland UK but we also off FREE samples directly to your door no questions asked. You can feel, see and touch the design you choose in your own home at no cost to yourself.
To chat over your project or for a FREE sample, give our team a ring today on 01709 329117.