5 Kitchen Flooring Options You Should Consider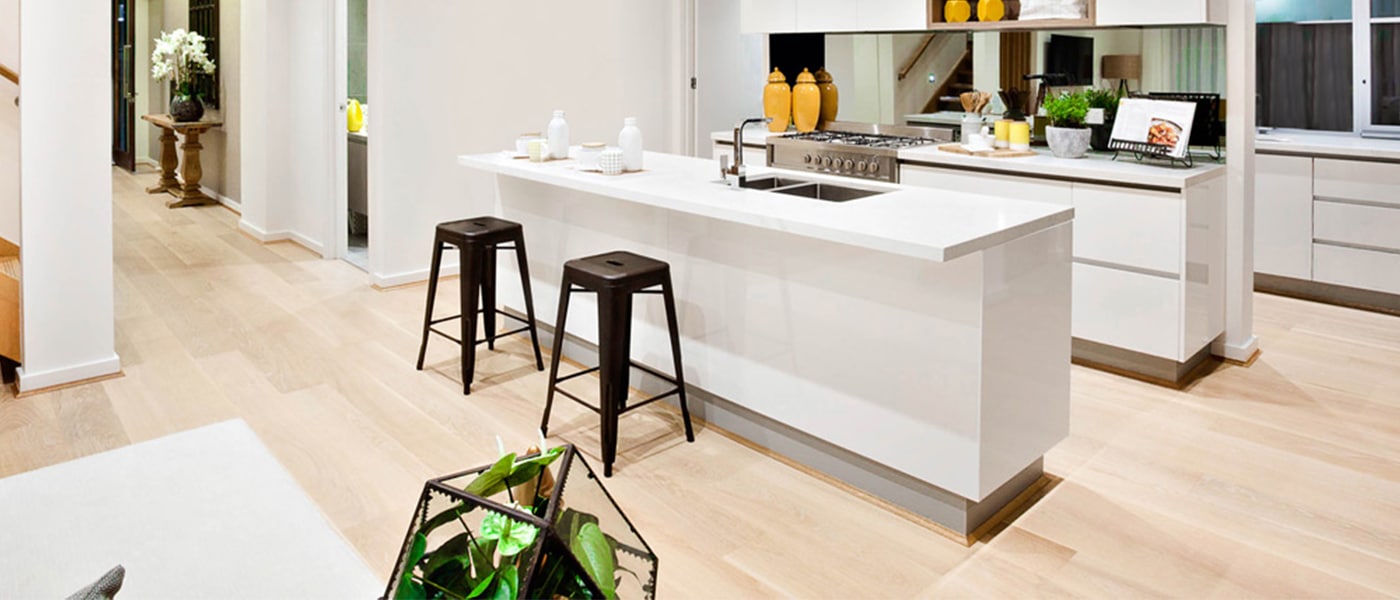 Your kitchen goes through more than most rooms in the home. Heavy footfall, dropped dishes and countless spills will take their toll on the kitchen floor.
To cope with all of that, you need flooring that's hard-wearing and durable, not to mention low-maintenance and easy-to-clean. That's exactly why carpet – used in most other rooms – is not suitable.
So, what are your options? In truth, there are a number of flooring types available for the kitchen – each with their own strengths and, in some cases, weaknesses. Read on as we take a look at 5 of the contenders and how they measure up.
1. Tile
Tiles have become a popular choice for kitchen flooring because they're durable and moisture resistant. They're also relatively low maintenance and come in a wide range of styles, sizes, shapes and colours.
The downside? Despite a variety of options, tiled floors often have a dated appearance, making them unsuitable for modern kitchens. The grouting can also become problematic because, unlike the tiles themselves, it's difficult to keep clean. On top of all that, the cost of tiles and installation can soon stack up.
2. Concrete
With various finishes available, concrete flooring has become a stylish option for contemporary kitchens. Understandably, it has impressive durability and can withstand constant footfall, so it's suitable for even the busiest kitchens.
Unfortunately, concrete flooring and the preparation required beforehand can set you back considerably more than the alternatives. It's also susceptible to staining, can become very cold and almost guarantees that items will smash when dropped.
3. Rubber
If you want the opposite to the cold, hard surface of concrete, rubber is the solution. Rubber tiles or sheeting provide a durable, eco-friendly surface for kitchen floors because it's recyclable. It's naturally resistant to fire and moisture, low-maintenance and has a padded quality that could reduce the amount of crockery you need to replace. One unique strength is the high-grip quality, meaning there's less chance of slipping.
While rubber isn't particularly expensive, it can be easily stained by spilt oils. Its main drawback, however, is that it carries a bit too much resemblance to a school or gym environment.
4. Stone
If you can afford it, stone is a superb option for stylish kitchens. Its natural variation in pattern and colour gives your kitchen a unique appearance and feel. The cold surface is ideal for hot environments and is naturally durable – not to mention easy to clean.
That said, many homeowners are priced out of stone flooring. Cheaper varieties may chip easily, so it's not something you should compromise on. Natural stone also needs routine sealing to keep it looking and performing well.
5. Solid vinyl
Vinyl flooring provides a 'best of both worlds' option when it comes to kitchen flooring. It's affordable, easy to install, durable and water resistant. Best of all it looks great and is available in a wide range of styles and colours to suit any design scheme.
While there are no clear downsides to solid vinyl kitchen flooring, buyers should be wary of poorly manufactured varieties which won't stand the test of time. Opt for a quality.
Can we help?
Igloo Surfaces provides high-quality Simplex vinyl flooring to complete any kitchen. With zero wood content, our flooring is cost-effective, hard wearing and looks great in any room. Even better, we offer free samples and free delivery on orders over £100.
Contact us today for more information on any of our products.