The Pros and Cons of Wood Floors in Your Bathroom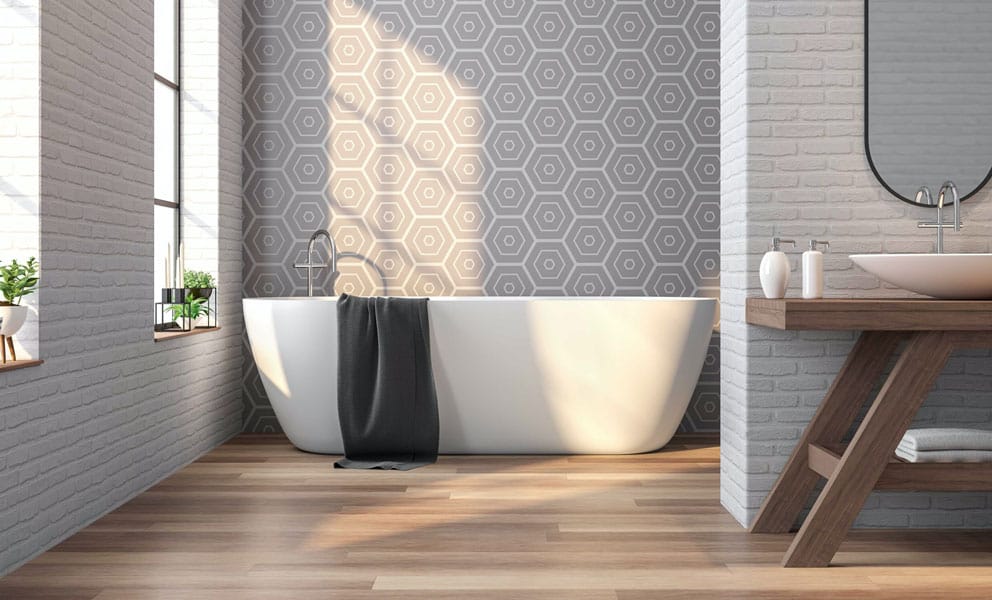 Wood floors have been found in our homes for hundreds of years. Although they're most common in rooms such as our living rooms, bedrooms and hallways, wood floors are becoming an increasingly popular choice in our bathrooms, too. But if you're planning to renovate your bathroom, is wood the best material to choose?
In this blog post, we'll share the key pros and cons of laying a wood floor in your bathroom.
What are the pros of wood floors in your bathroom?
Appearance
Not only does wood feel wonderful underfoot, one of the main reasons why wood is such a popular flooring choice is its beautiful appearance. From pale ash to deep oak, there's a huge variety of colours, grains and finishes available when it comes to finding the perfect wood for you. This makes it a versatile choice that can add a sophisticated touch to any style of bathroom.
And wood doesn't just look good. According to research, having natural materials and textures in our homes can also reduce our stress levels. That means wood is ideal if you want to make your bath times even more relaxing!
What are the cons of wood floors in your bathroom?
Not water resistant
Perhaps the biggest con of having wood floors in your bathroom is the fact they aren't water resistant. Anyone who's ever forgotten to put the bathmat down will know how wet a bathroom floor can get! If your flooring isn't water resistant, it could lead to a whole host of problems – from damp patches on your downstairs ceilings to mould and mildew on your floors.
High maintenance
Another con of wood floors is the amount of maintenance they require. Your bathroom floor has to withstand a lot of wear and tear, and to make sure the wood is up to the task, you'll need to treat it with specialist oils on a regular basis. This will help to prevent water damage and keep your floor looking its best.
Expensive
If you're looking for wood floor bathroom pros and cons, one of the most considerable cons is the expense. Although the cost will depend on the size of your bathroom, the average price of laying a solid wood floor in the UK is between £1,250 and £2,000. That's around the same price as installing a new bathroom suite!
Get the wood effect with vinyl flooring
Love the look of wood but don't love the cost? For an affordable – and practical – alternative to traditional wood, discover our range of wood-effect vinyl flooring.
Just as beautiful as the real thing, but far more hard-wearing, our flooring is 100% waterproof and requires no specialist treatment. Simply install your chosen panels using our innovative tongue-and-click system and enjoy the look of genuine wood with none of the drawbacks.
Best of all, our flooring promises high slip resistance and comes with a 10-year guarantee. This makes it perfect for high-traffic areas such as busy family bathrooms.