The Biggest Bathroom Trends of 2018 So Far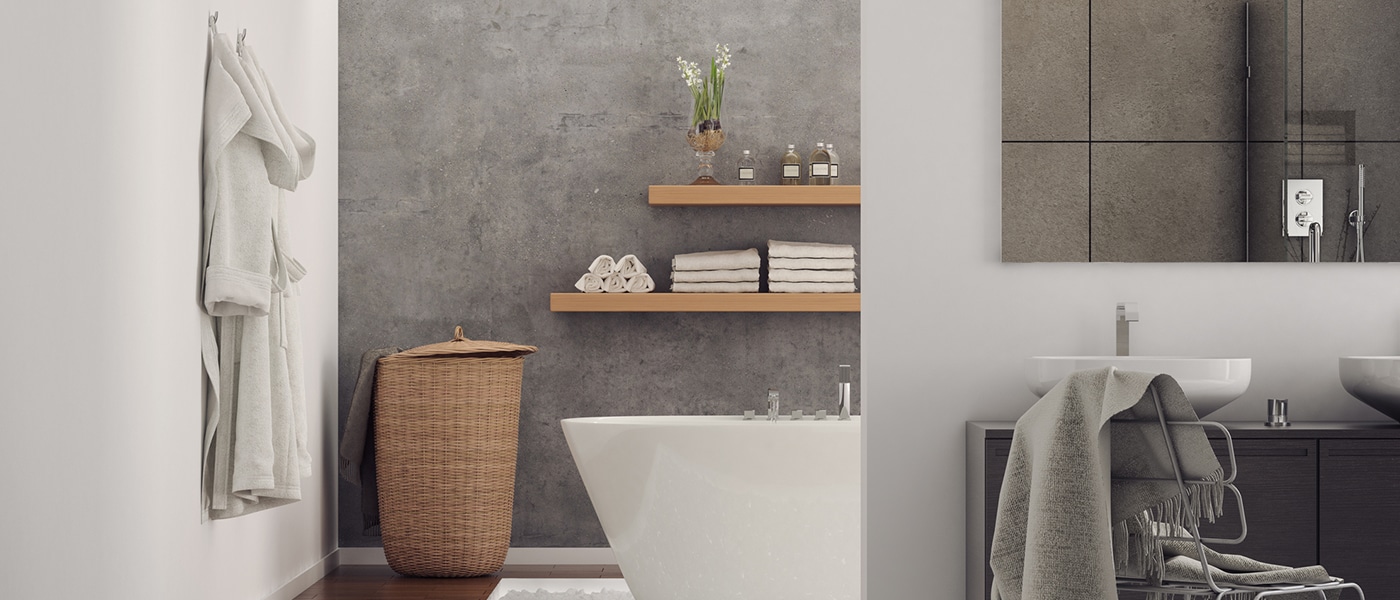 Looking to spruce up your bathroom? We've got some good news for you. 2018 has seen all kinds of exciting design trends to bring your shower or bath surroundings right up to date.
From the latest colours to modern surfaces, there's something for everyone. Read on as we explore the biggest bathroom trends so far in 2018…
Colours
The colour of your bathroom contributes so much to how it looks and feels. According to Ideal Home, Indigo Blue is making a splash in 2018. Beautiful shades of blue, such as these Striking Blue wall panels, create a peaceful marine atmosphere.
Alternatively, House Beautiful suggests that grey bathrooms will continue to increase in popularity because of their impressive versatility. Grey walls or flooring provide a neutral palette which works with both modern and traditional design schemes. Stay traditional with a  grey marble look or opt for a modern look with subtle grey panelling.
Surfaces
Wet rooms continue to be a big trend, according to Grand Designs Magazine. Recessed wall profiles and wide panelling helps keep even a small, simple space looking and feeling modern. Meanwhile, Amara lists statement flooring as one of their top bathroom trends for 2018.
Because floor space is a lot smaller than wall space, it can offer a cost-efficient way to add new designs to your bathroom. With exciting designs like copper slate, it's no wonder statement flooring has taken off in 2018.
Finishes
Also on the list for Grand Designs are sleek wood effects. Scandi design influence paired with a continued trend for natural materials has made the wood-look desirable for bathroom walls and floors.
Unfortunately, wood isn't the best material for bathrooms – especially in the splash zone. That's where wood-effect vinyl flooring comes in. Choose from natural oak, vintage oak or even antique white ash to incorporate a stylish natural touch in your bathroom
Wood isn't the only option. Ideal Home also includes matt finishes as one of their key trends this year. Muted tones pair particularly well with natural materials like wood and stone, to create a perfect juxtaposition in your design.
Feature pieces
Once you've got the overall design of your bathroom nailed down, it's time to look at some smaller features. Victorian Plumbing suggests rose gold bathroom fixtures and dark radiators are two of the best options for homeowners in 2018. Rose gold taps, for instance, add a subtle touch of elegance. Meanwhile, dark radiators can be used for contrast, adding another dimension to your bathroom design.
Update your bathroom
Igloo Surfaces provides an easy, cost-effective way to modernise your bathroom with a range of shower and bathroom wall panels and stylish vinyl flooring. Our products come in a range of designs, covering all the latest trends. They're also completely waterproof, hard-wearing and easy-to-install so you don't need to worry about any hassle or damage.