How to Get a Marble Bathroom Look on a Tight Budget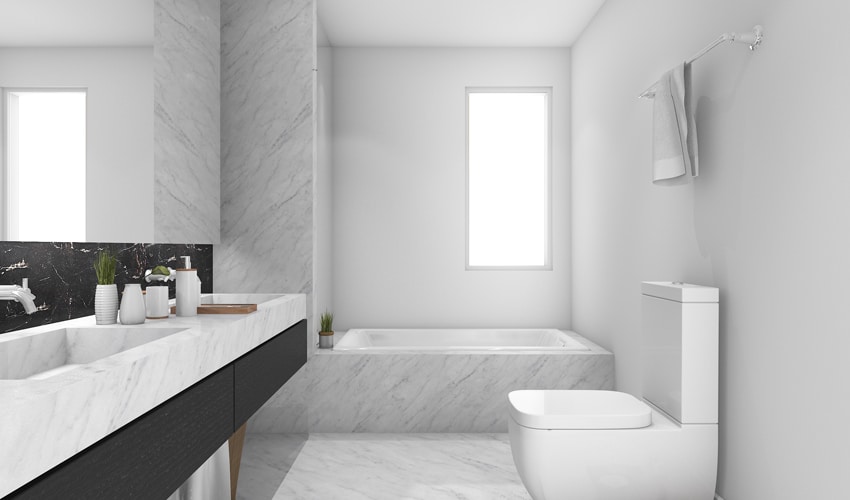 Want to give your bathroom that luxury appeal? Marble is a great choice. It's timeless, sophisticated and natural in appearance. Unfortunately, the cost of marble puts it out of reach for most homeowners. However, that doesn't mean you can't have the marble look.
Keep reading to see how you can get a stunning marble look without breaking the bank.
Marble bathrooms – what's all the fuss about?
Marble is one of the most beautiful stones available. It's made up of recrystallised minerals, giving it a natural swirling, mosaic pattern. And this beauty was recognised as far back as ancient Greek and Roman times. Over 2,000 years ago, people used marble on prestigious structures as well as decorative tile floors.
It's no wonder that people want to emulate this classic style in their homes. Marble is commonly used for kitchen counters and tiling for floors and walls in kitchens, bathrooms and beyond.
The cost of marble bathrooms
Unfortunately, because of its prestigious reputation – along with the difficult extraction and production process – marble is far from an affordable bathroom material. Covering the walls and ceilings alone can cost thousands.
That's not the only issue. Marble is a relatively soft stone, meaning it's also absorbent. Surfaces made from marble can scratch and stain over time, quickly impairing the luxury appearance of your bathroom. And we've not even got started on the installation time and costs for marble bathrooms…
The luxury marble look on a budget
The good news is: it's possible to get the all the benefits of marble without any drawbacks. How? With PVC wall and ceiling panels. PVC is hard-wearing, easy to install and 100% waterproof. It's hygienic and easy to clean. Even better, it can be produced in a vast array of styles.
Marble-look PVC wall and ceiling panels from Igloo Surfaces provide homeowners with a luxury marble look, minus all the cost and hassle. Our high-performance panels have been purpose-designed for tough environments like bathrooms and kitchens. They won't be stained or easily damaged and come with a 10-year guarantee.
Best of all, PVC marble-look wall and ceiling panels are available at a fraction of the cost of real marble. Homeowners can get the stunning appearance of marble without the breathtaking cost.
Put us to the test
Igloo's state-of-the-art ceiling and wall panels are a modern, cost-effective and high-functioning option for bathroom surfaces. But don't just take our word for it. With Igloo, you can order free samples with ease, to make sure you're getting the exact style and quality you want and need.
When you're ready to order, you benefit from free delivery on orders over £100, a straightforward returns policy and all the guides and support you could ever need. Take a look at our full range of marble-look products today or request your samples online