A Guide to Bathroom Wall Panel Sizes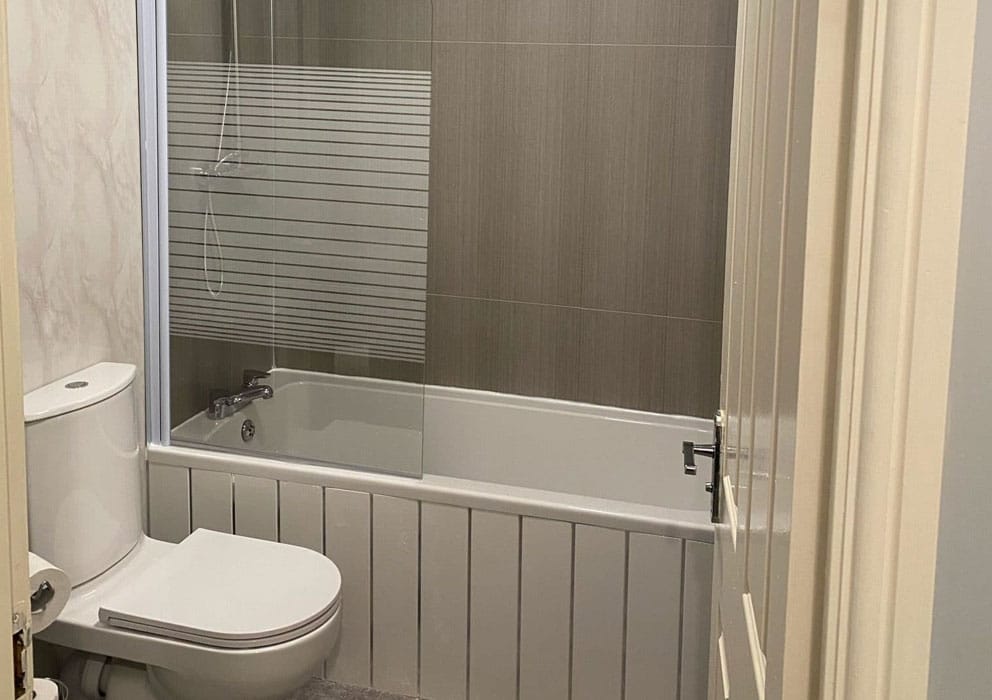 Tempted to try bathroom wall panels but not sure what size to choose? PVC wall panels are one of the quickest and easiest ways to update your bathroom, but if you haven't used them before, you might be wondering which size is best for your home.
In this blog post, we've put together a handy guide to the different bathroom wall panel sizes we stock at Igloo Surfaces. Whatever the shape and size of your bathroom, read on to find your perfect fit today.
Can I cut my bathroom wall panels to size?
Yes, you can cut your bathroom wall panels to size. Don't worry if you read through the dimensions below and think that nothing will fit your bathroom. Most PVC panels on the market are designed to fit standard measurements, but the reality is many rooms won't fit the brief!
From irregular windows to alcoves and sloping ceilings, there are many features that might require you to customise your panels before installing them. Thankfully, it's quick and easy to do. All you'll need is a fine-toothed hand saw or jigsaw to cut your chosen panels to size.
What size panels do we stock?
1.    Arctic Infinity panels
Looking for showstopping panels that will transform your bathroom? Our Arctic Infinity range is the perfect choice. These bold prints will make breath-taking bathroom feature walls, from a Statue of Liberty scene to a relaxing tropical oasis.
To accommodate the striking designs, Arctic Infinity panels are extra-large, measuring 2,440 mm long x 1,220 mm wide x 2.5 mm thick. They are available individually or in packs of two or three.
While most of our panels are 10 mm thick, these are much thinner. This means they aren't hollow and don't feature a tongue and groove system, so you will need to apply seal tape around the edge of each panel to ensure a smooth finish.
2.    Block colour panels
Available in a variety of shades and complete with matching edgings, our block colour panels are our second largest collection. These panels are divided into two categories, 'striking' and 'subtle' colours, and measure 2,500 mm long x 1,220 mm wide x 2.5 mm thick.
Like our Arctic Infinity panels, our block colour range doesn't feature a tongue and groove system. They're still quick and easy to install, especially if you purchase them as part of our shower kits which include all the matching trim, edgings, and adhesive you'll need.
3.    Standard panels
The majority of our panels may be standard in size, but when it comes to style, they're anything but! From faux marble to a water droplet design, these panels measure 2,400 mm long x 1,000 mm wide x 10 mm thick. The 1,000 mm with makes it easy to calculate how many panels you need to cover your wall. (Simply divide the width of your wall by the width of your chosen panel).
4.    Tile effect panels
Our tile effect panels are sold in packs of four, each measuring 2,650 mm long x 250 mm wide x 8 mm thick (some designs measure 2,600 mm long and 9 mm thick). The design is spread evenly across all four panels.
Browse the full range at Igloo Surfaces
Whatever the size of your bathroom, PVC wall panels are quick and easy to fit. Most importantly, they're water resistant, easy to wipe clean and highly durable for all the usual bathroom bumps and knocks. Find your dream design at Igloo Surfaces today!