A Complete Bathroom Wall Panel Buying Guide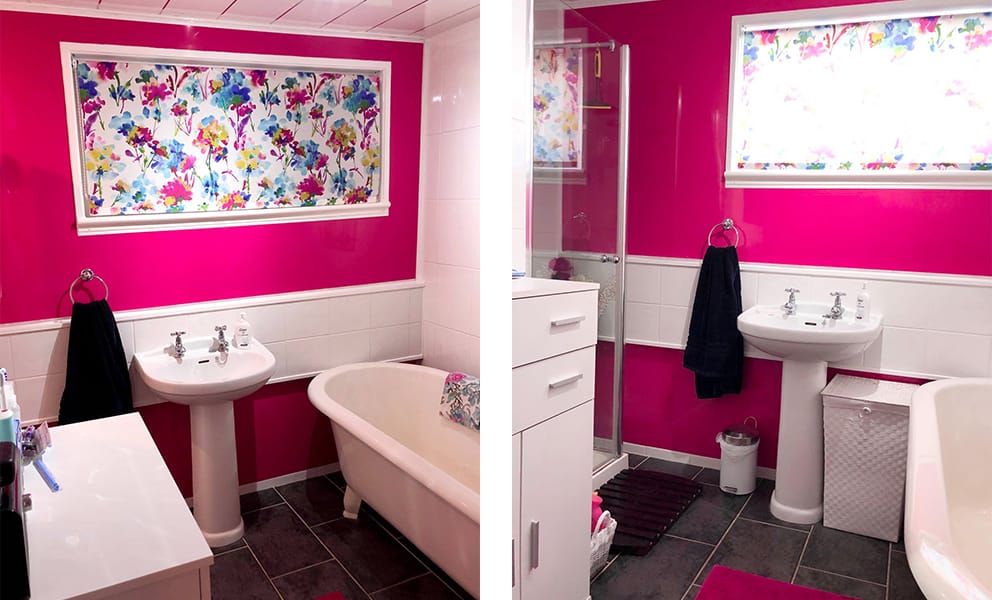 Bathroom wall panels are an increasingly popular wall covering for bathrooms and showers in both homes and commercial facilities. But given that they're relatively new on the scene, it's understandable that buyers have plenty of questions about them.
In this post, we'll aim to cover all bases, providing a comprehensive buying guide for bathroom wall panels.
Bathroom wall panels: the basics
The first question for many buyers will be 'what exactly are bathroom wall panels?' In short, they're PVC panels that are fitted to cover your bathroom walls.
Panels come in a range of sizes, but are typically made to cover the length of the wall (as opposed to tiles, where multiple tiles are lined up from the floor to the ceiling). They vary from 250mm to upwards of a metre in width, but are typically less than a centimetre thick, so they don't eat away at the size of your bathroom.
Bathroom wall panels can be bought individually based on the requirements and size of your bathroom, or in shower panel kits, which come with two or three panels as well as everything you need to fit them.
6 benefits of bathroom wall panels
Bathroom wall panels have a long list of benefits compared to their alternatives.
Waterproof
First and foremost, PVC bathroom wall panels are completely waterproof. This is a must-have for the surroundings of any bath or shower, where spills, splashes and moisture from steam are inevitable.
Stylish
Because they're made from versatile PVC, bathroom wall panels are available in a wide selection of styles. Solid colours, subtle sparkle effects, natural-look materials like wood and stone, and even detailed images. With bathroom wall panels, the choice is yours.
Low maintenance
Bathroom wall panels are fitted using a tongue and groove system, so they don't require masses of grouting between every panel to keep them waterproof.  That makes them much easier to keep clean, with the panel itself simply wiping clean.
Easy to fit
As we'll explain in more detail below, bathroom wall panels are impressively easy to fit. There's no need for grouting and they can even be installed on top of existing tiles to save you time and effort.
Durable
Bathroom wall panels are made to last. The strong PVC can withstand all the bumps and knocks that come with the day-to-day use of a bathroom. For complete assurance, Igloo wall panels even come with a guarantee of 10-20 years.
Cost-effective
From the affordable initial price to the fact they last so long, bathroom wall panels are certainly cost-effective. Guaranteed for at least 10 years, your investment will continue to pay off in the long run, where you would've needed to replace other products like bathroom wallpaper.
How to fit your panels
Whatever you're buying for your home, you'll want to know how to install it – and whether you'll need any professional assistance. Wall panels are no exception, but thankfully they're refreshingly easy to fit.
As you'll see in our 15-step guide, you don't need any specialist equipment or expertise. Just a fine-tooth saw, jigsaw and sealant gun plus a bit of DIY know-how.
Panels are fitted by adding the corner trim, bottom trim and adhesive before placing the panel on the wall. After that, you simply need to add side trims, top trims and a bead of silicone sealant at the bottom and around any pipes or fittings.
Best of all, the process is the same for walls with existing coverings like bathroom tiles. To avoid the messy and time-consuming tile removal process, panels can simply be fitted over tiles with the same great results.
How much do they cost?
The cost of bathroom wall panels depends quite heavily on the size of your bathroom or the space you're looking to cover. Some people may only need to cover the area around their shower, which can be done with two or three panels for just over £200.
If you're panelling the whole bathroom, you'll want to buy more than three panels. With high-quality panels sold in packs of 4 for as little as £60, this can be equally cost-effective. To give you a better idea, a 3 x 3 metre bathroom would require around 12 packs of these smaller panels, costing just over £720 to transform the entire room.
Given that you don't need to pay for professional installation by a tiler or decorator, the overall cost is typically much lower.
Bathroom wall panel types & styles
No bathroom wall panel buying guide would be complete without covering the different types of wall panel that are available. While older wall panels may have been made wood, PVC has now been accepted as the best material.
Broadly speaking, you can choose from individual wall panels which are larger in size (generally at least 1 metre in width), packs of smaller wall panels, or all-in-one shower kits, which include all the trims, caps, adhesives and sealants you need to install wall panels around your shower.
However, there's also a lot of choice when it comes to the style of your wall panels, including:
Solid colours – Whether it's a clean white, neutral grey, pastel blue or a bold and vibrant red, bathroom wall panels are available in pretty much any colour you can think of.
Subtle patterns – If you want to add a bit of intrigue to your design, you can choose from patterns like sparkle, metallic, gloss and string-effect.
Material effects – PVC wall panels make it easier and more affordable to create a high-end, natural look, with effects including wood, brick, stone, marble and even tiles.
Images – You can even find wall panels with detailed images, creating a stylish focal point and backdrop in your bathroom. That includes custom panels which can be made using your own image.
Try bathroom wall panels for yourself
The best way to see the style, quality and performance of bathroom wall panels is to try them for yourself. Take a look at our full range online to find a style that suits your home.
If you're not quite ready to install them on your own bathroom or shower, you can order four samples from Igloo Surfaces for just £1. In doing so, you'll receive a £5 discount code for any future orders, making your samples effectively free.