7 Benefits of PVC Ceiling Panels for Bathrooms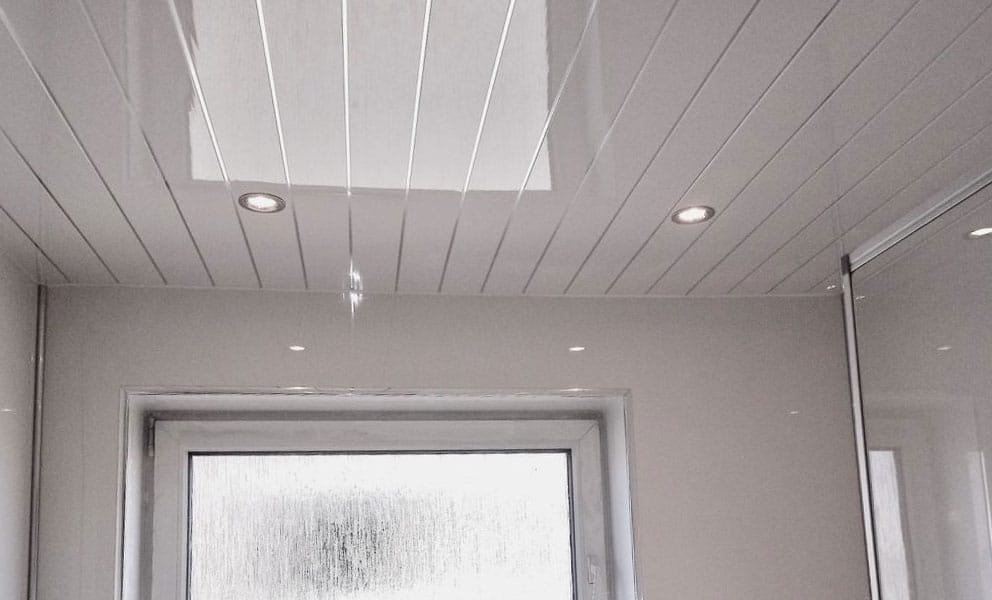 How do you cover the ceiling in your bathroom? That's a question asked in homes up and down the country – many of whom are sick of repapering or adding yet another lick of paint.
Cue the entry of PVC ceiling panels for bathrooms. These revolutionary panels can change the way your bathroom looks, feels and functions. Read on as we take a closer look, with seven key benefits…
1. Water resistant
First things first, PVC ceiling panels are completely water resistant. That's an absolute must on your bathroom ceiling, which is constantly exposed to moisture as steam rises from your shower or bath.
2. Low maintenance
While paint will flake and paper will peel, PVC ceiling panels for your bathroom will stay in place and continue looking sharp. That means there's no need to constantly touch up or revamp your ceiling. Simply sit back in the bath and enjoy the view.
3. Modern
Let's face it. Paint and wallpaper are dated. That's especially true when they inevitably succumb to the moisture rising up in your bathroom. On the other hand, PVC bathroom ceiling panels provide a contemporary appearance that doesn't fade over time. Choose from a selection of styles, from smooth high gloss to wood-effect ash and bring your bathroom right up to date.
4. Versatile
Another feature of modern bathrooms is modern lighting. Recessed LED lights are a sought-after feature for anyone who wants a contemporary, seamless look. Fortunately, PVC ceiling panels won't cause an obstruction. Despite being robust and hard-wearing, PVC is impressively workable so modern recessed light fittings can be built in without any issues.
5. Easy to fit
Ever tried wallpapering or painting your ceiling? Take our word for it – it's even harder in the bathroom. The high-moisture environment makes things difficult, while unmovable obstacles like the toilet, bath and shower add a further challenge.
In contrast, PVC ceiling panels are a breeze to install. Simply measure up, cut them to size, apply adhesive and away you go…
6. Long-lasting
When you install PVC ceiling panels in your bathroom, you can rest assured they're there to stay. The hard-wearing PVC won't weaken or fade over time, nor will it be affected by any knocks or bumps when cleaning those hard-to-reach areas. To put your mind at ease, our ceiling panels even come with a 10-20 year guarantee.
7. Cost-effective
To start with, it doesn't cost an arm and a leg to buy PVC ceiling panels for bathrooms. But because they're so durable, that cost will be spread over a longer lifespan. Rather than buying now and replacing in a couple of years, you'll be investing in ceiling panels for over a decade, making the overall purchase even more cost-effective.
PVC ceiling panels for your bathroom
From the cost and longevity to their modern appearance, there are a number of benefits that set PVC panels apart from the alternatives. If you're ready to make the switch, Igloo Surfaces is ready and waiting.
We stock a selection of high-quality PVC panels that are perfect for your bathroom ceiling. Choose from single panels or handy five-panel multipacks, then buy with confidence thanks to our 10-20 year guarantee.