6 Bathroom Wall Covering Ideas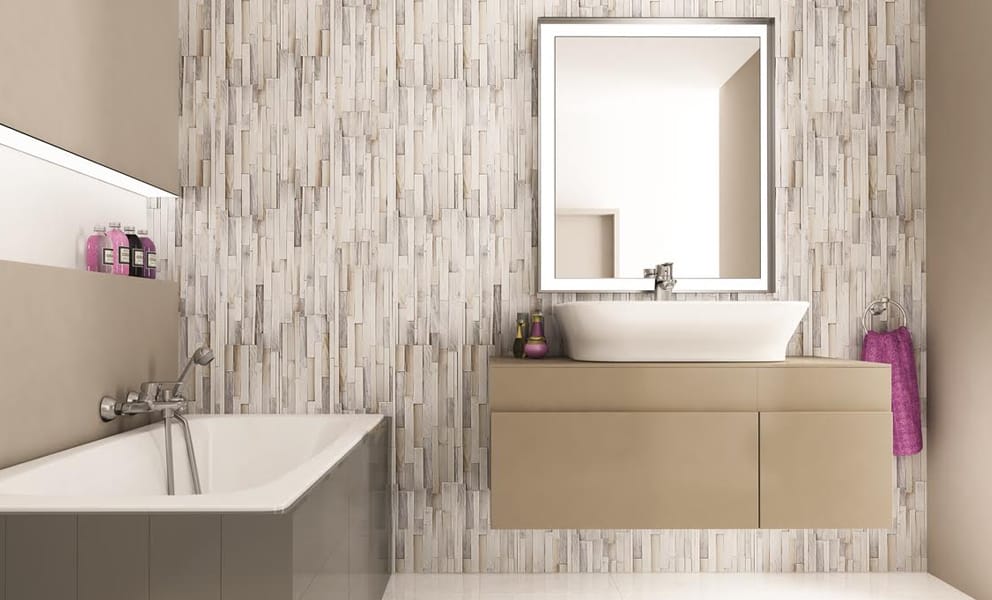 With so many bathrooms covered by tiles, it can be difficult to find the inspiration you need when you're revamping your own walls. That's why we've put together a list of bathroom wall covering ideas that can truly transform your space.
Read on for six bathroom wall covering ideas, from unique textures to immersive images.
Use a natural, textured  look
Natural textures can add another dimension to any bathroom. Here are three bathroom wall covering ideas that use natural textures without the cost.
1.    Stone
Natural stone is one of the most high-end looks for any bathroom. But it can come with an equally high-end price tag. Using PVC wall panels, you can add the chic appearance of stone without the eye-watering costs. Choose from a range of styles including black marble, polished stone or even understated grey concrete.
2.    Brick
Exposed brickwork has emerged as a long-standing trend over the last decade. Unfortunately, bricks and mortar aren't the best at dealing with constant exposure to moisture. Using brick effect wall panels, you can combine the sought-after look with much-needed water-resistance.
3.    Wood effect
Wood can create the feel of a sauna or spa in your bathroom. However, much like brick, wood itself isn't particularly conducive to the splashes and spills of a bathroom. Wood-effect panels allow you to get creative, without the same high-maintenance going forward.
Add a feature wall
Feature walls have become a design staple in recent years. Bathrooms are no exception, where an interesting design can create a backdrop for those relaxing soaks after a long week at work. While patterned wallpaper is obviously unsuitable for bathrooms, PVC wall panels allow you to add this focal point without compromising on function.
4.    Landscapes
Transport yourself to somewhere truly serene every time you head to the shower. A waterfall panel is the ultimate backdrop for calm, complementing the running water of your bath or shower.  Or maybe you'd prefer the warmth and relaxation of a Caribbean beach from a palm tree wall covering?
5.    Locations
If your favourite place in the world is a little more specific, why not add a location-based image to your bathroom walls? Make your bathroom quintessentially British with a Big Ben backdrop, or turn it into a bathroom that never sleeps with the Statue of Liberty front and centre.
6.   Keep it simple with a solid colour
While interesting textured effects and beautiful images are perfect for some, one of the best bathroom wall covering ideas is simply to add your favourite colour. This can be tricky with tiles, as the amount of grouting required can break up the colour too much.
However, with wall panels, you can choose from a spectrum of vibrant colours which will be displayed without the interruption of grouting. Go bold with red, green and blue or opt for something more subtle like fawn, pastel blue or soft grey.
Bring your bathroom wall covering ideas to life
Whatever your favourite bathroom wall covering idea, Igloo Surfaces can help you make it happen in your home. Our PVC bathroom wall panels are available in a range of styles, from solid colours and subtle patterns to bold images and natural effects.
All panels are easy to fit, 100% waterproof and impressively low maintenance, so you'll never have to compromise on performance to get the look you want. If you have any further questions about our products, don't hesitate to contact our team.