Improving Washroom Hygiene in Public Buildings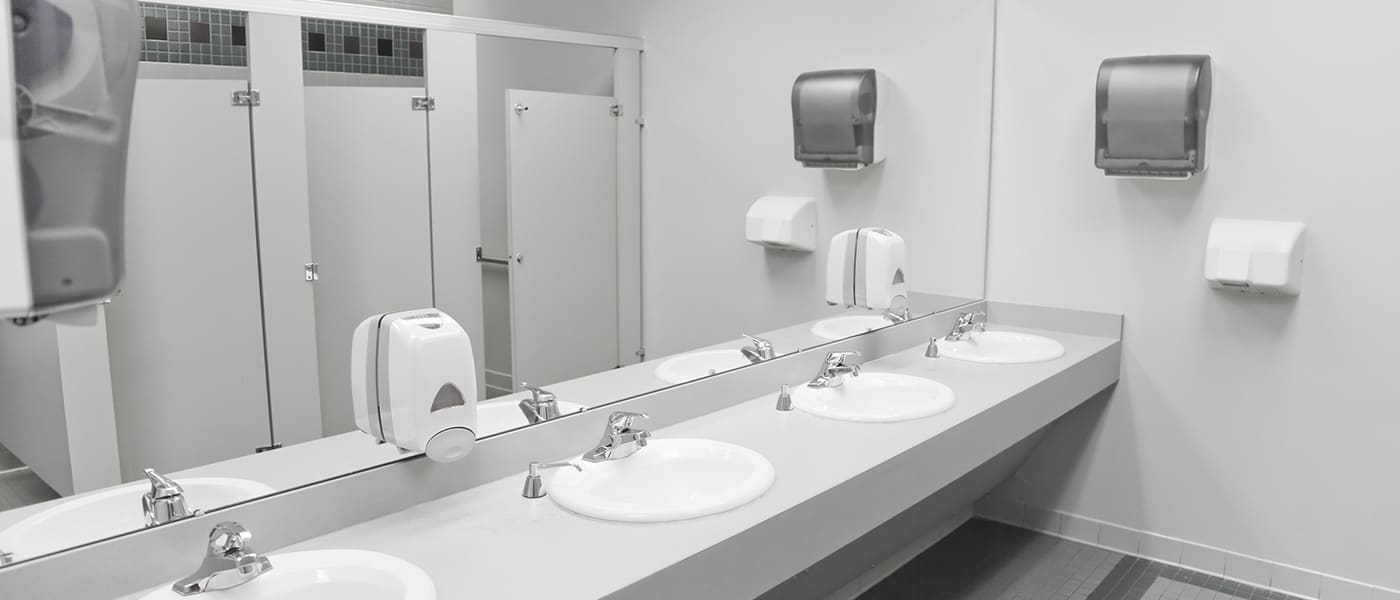 With countless people using them to "freshen up" on a daily basis, public washrooms are a hotspot for dirt, germs and bacteria. That's not exactly what you want to hear when you're in charge of keeping them hygienic. The good news? The are simple ways to stop germs spreading, make cleaning easier and improve hygiene…
Sensors
With people using the toilet, there's a lot of potential for germs to spread in public washrooms. The vast majority of that is spread by people's hands. Whether it's switches, flushes or door handles, they become saturated in bacteria, which is easily passed on to the next person who touches them.
A popular solution to this issue is sensor technology, which has a wide range of applications in public washrooms:
Taps
People use taps to remove germs from their hands. But, paradoxically, they have to spread germs onto the tap to do so. Sensor taps eliminate this problem, detecting when hands are under them and letting water flow. They also reduce water usage, with no risk of taps being left on
Flushes
Before you've even washed your hands, you need to flush the toilet. Unfortunately, this means countless dirty hands touching the flush throughout the day. Sensor flushes are a simple solution, which detect when someone has moved away from the toilet and flush automatically.
Hand drying
Just 5% of people wash their hands properly after using the toilet. It's disgusting, but true. And it means that those germs will continue to be transferred onto hand dryers. So, even people who wash their hands properly could be re-contaminated by a dirty hand-dryer switch. With sensor hand-dryers, this isn't an issue
Lighting
The same can be said for light switches, which will be contaminated as people turn the lights on and off. Sensor lighting will switch on when motion is detected in the washroom, removing the need for a switch. Similar to sensor taps, this could solve two problems – with no risk of people leaving the lights on and wasting energy.
Hygienic surfaces
As well as being passed on by hands, bacteria can spread through the air and any splashes or spillages. This makes regular deep-cleaning essential for public washrooms. However, things can still be problematic when unsuitable surfaces allow bacteria to gather. That's what happens on the grout lines of conventional tiles, but there are alternatives:
Wall cladding
PVC wall panels allow you to cover the walls without unhygienic grout lines. Panels can be wiped clean with ease and are completely waterproof, so they won't hold any extra bacteria.
Flooring
Hygienic flooring is also an important consideration. Airborne bacteria, spillages and footfall make flooring a danger zone for dirt and bacteria. Again, grouting is a big problem when it comes to keeping floors clean. Vinyl flooring offers a practical way around this, with no grouting and zero wood content to enable easy cleaning.
Choose your style
With Igloo Surfaces, maintaining good hygiene doesn't have to mean compromising on style. We provide high-quality wall panels and hygienic flooring in a wide range of styles. Even better, we offer free samples and a 10-20 year guarantee, so you get complete peace of mind.